Improvements to Overall User Experience
Ability to Display Custom Forms Under New Request Drop Down.
If you're utilizing custom forms, there is now the option to have that form under the New Request drop down menu, making the workflow similar to submitting a work order or inventory request.

For more information on setting up custom forms, please click here.
Date in the "Add Labor" Section of a Work Order Will Now Default to Today's Date.
Previously, the date was defaulting back to the date that the work order was submitted and users would have to manually change it to today's date.
For more information on completing work orders, please click here.
There Is Now a Setting on Each Standard/Custom Field to Be Able to "hide" Any Field that You Do Not Want to Show on Asset Records.
If you're district only uses a subset of the Standard/Custom Fields that are available for your assets, you can hide the others from showing up on Asset Records.

For more information on Standard/Custom Fields, please click here.
Top Level Search bar to Search on Work Orders and Inventory via a drop down menu
Users now have the opportunity to utilize a top level search bar to search for key words, numbers, etc. for work orders in the system. There is also a toggle option to have this same top level search for Inventory. Please note, this search bar is accessible on all pages in ML Work Orders.

For more information on searching, click here.
Improvements to Inventory
Auto Average Inventory Unit Calculation, as Well as Unit Price Updates to Inventory only Effecting Requests Going Forward.
Previously when an update was made to the Unit Price on a piece of inventory, that change in price reflected all requests involving that inventory, including orders from the past. This will now only happen on a go forward basis, so users can see the change in price over time.
This setting can be found in your general settings. When this setting is turned on, the next time you receive inventory on your inventory item, it will auto-calculate your inventory unit price. This is calculated by taking the overall cost from all inventory that was received and dividing this by the current quantity of the inventory item.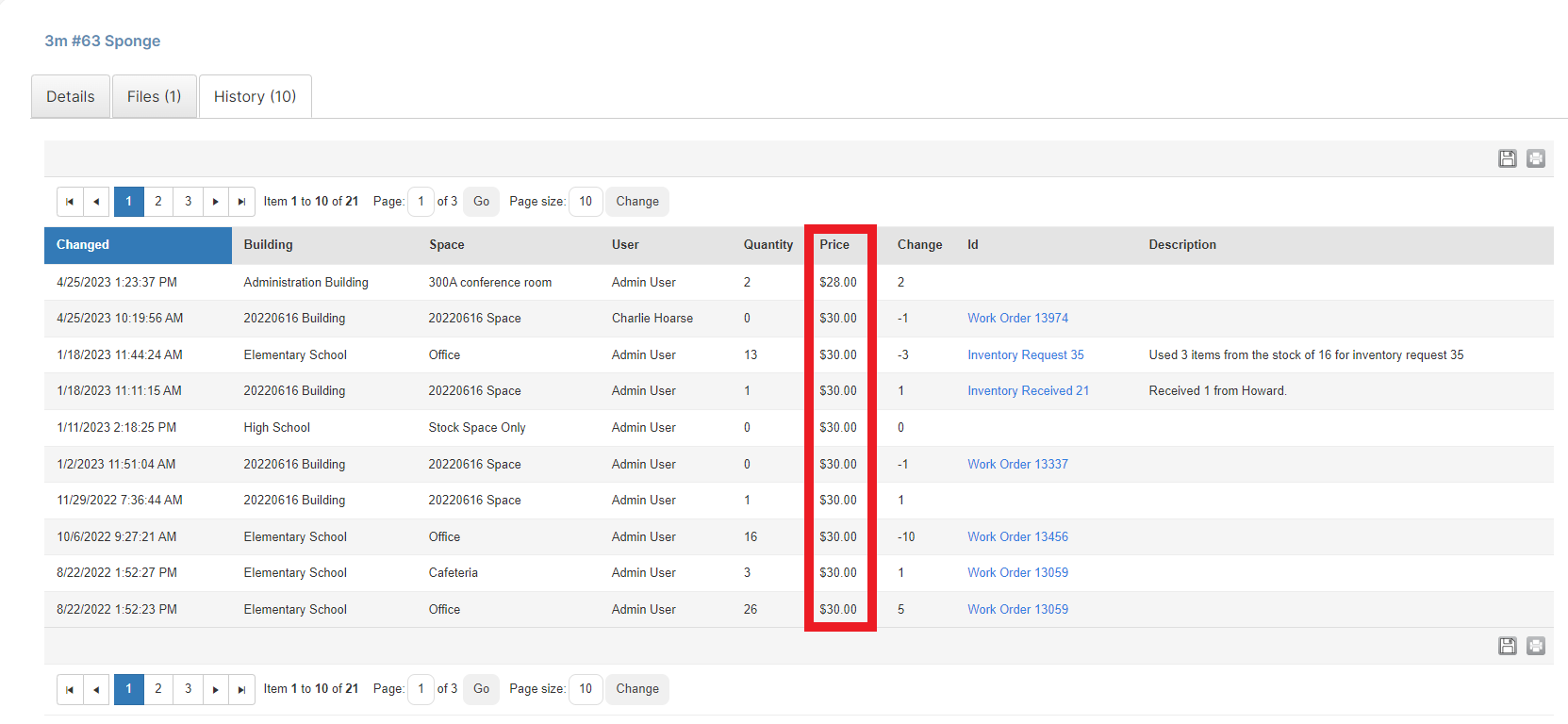 For more information on receiving inventory, please click here.
Improvements to Assets
Work Order Notes are now a Default column on the Work Order Tab of an Asset Record
Having notes as a default column on the work order tab on an asset record will now provide more easily accessible information to users on their Asset records.

General Improvements
Users Now Have the Ability to Generate Preventative Maintenance Work Orders Based on Last Completion Date.
Currently PMs are set to generate after a certain amount of time (30 Days for example). If that PM takes 10 days to complete, another will generate in 20 days that may not be needed. With this new setting, that new PM would generate 30 days from the completion date.
For more information on Managing Preventative Maintenance, click here.