Setting up the HTTP Redirect service sends your domain visitors to any website you specify. The true address of the destination website – not your domain name – will display in the viewer's browser. This is useful if you would like to point your staff members to a custom domain such as helpdesk@myk12school.org instead of using the actual ML Work Orders URL (i.e. ny56.mlworkorders.com).

1. Add a "HTTP Redirection Record" DNS Entry for the Vanity Domain you would like to use. For instance if your school district domain is myk12school.edu and you wanted helpdesk.myk12school.edu then you would create that DNS Entry as a Standard 301 Redirect.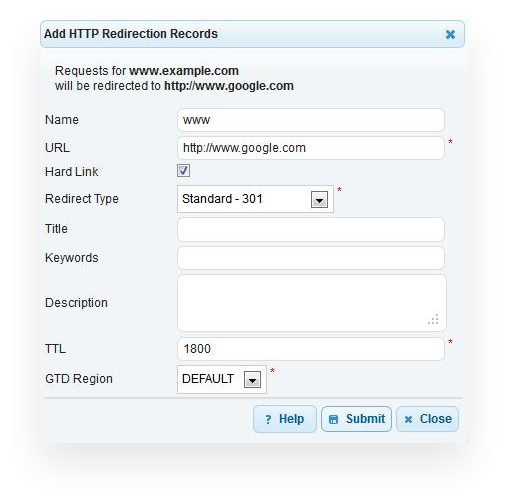 2. Name: This will be the host for your domain which is actually a computer within your domain. Your domain name is automatically appended to your name. If you are trying to make a record for the system helpdesk.myk12school.edu. Then all you enter in the text box for the name value is helpdesk.

3. URL: This will be the destination URL that our forwarding servers will send requests to. You will want to put your actual ML Work Orders domain here (i.e. ny54.mlworkorders.com)

4. Redirect Type: Select Standard 301 under this field.

5. Select the Submit button.