Improvements to Overall User Experience
Notification Bell with Notification Thread
Users will now have access to a Bell icon to the right of the profile button that will have a number on it representing the number of new notifications the user has.

Once the user clicks the bell, their notification thread will appear where they can take a look at their new notifications and get caught up with all new notifications.
By clicking the toggle button, users can switch from all notifications, to just those that are unread. To mark a notification as "read", simply click the blue check mark icon to mark them one at a time, or the Mark All Read button to mark all new notifications as "read".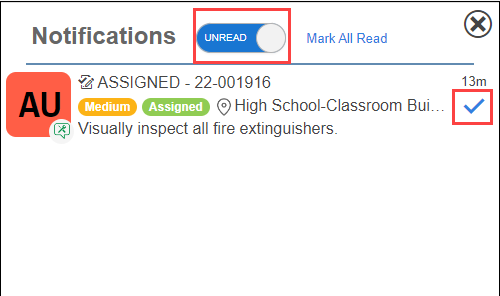 Here's a full video on the new notification thread and icon:
For a further look into the new notification bell icon, please view our step by step guide here.
The General Settings Page is Now Tab Based
Previously, the settings page was a long list of all the settings inside of ML Work Orders. With this release, the settings are now divided up into General, Work Orders, Inventory, and Asset tabs. This will make specific settings easier to find and edit within ML Work Orders.

For more information, please click here.
New "Bypass Approval" Permission
Giving a user this permission will allow them to submit a work order without having to go through the approval process that is in place. If a user has this permission, they will see a check box when submitting a work order that reads "Require Approval on this Work Order".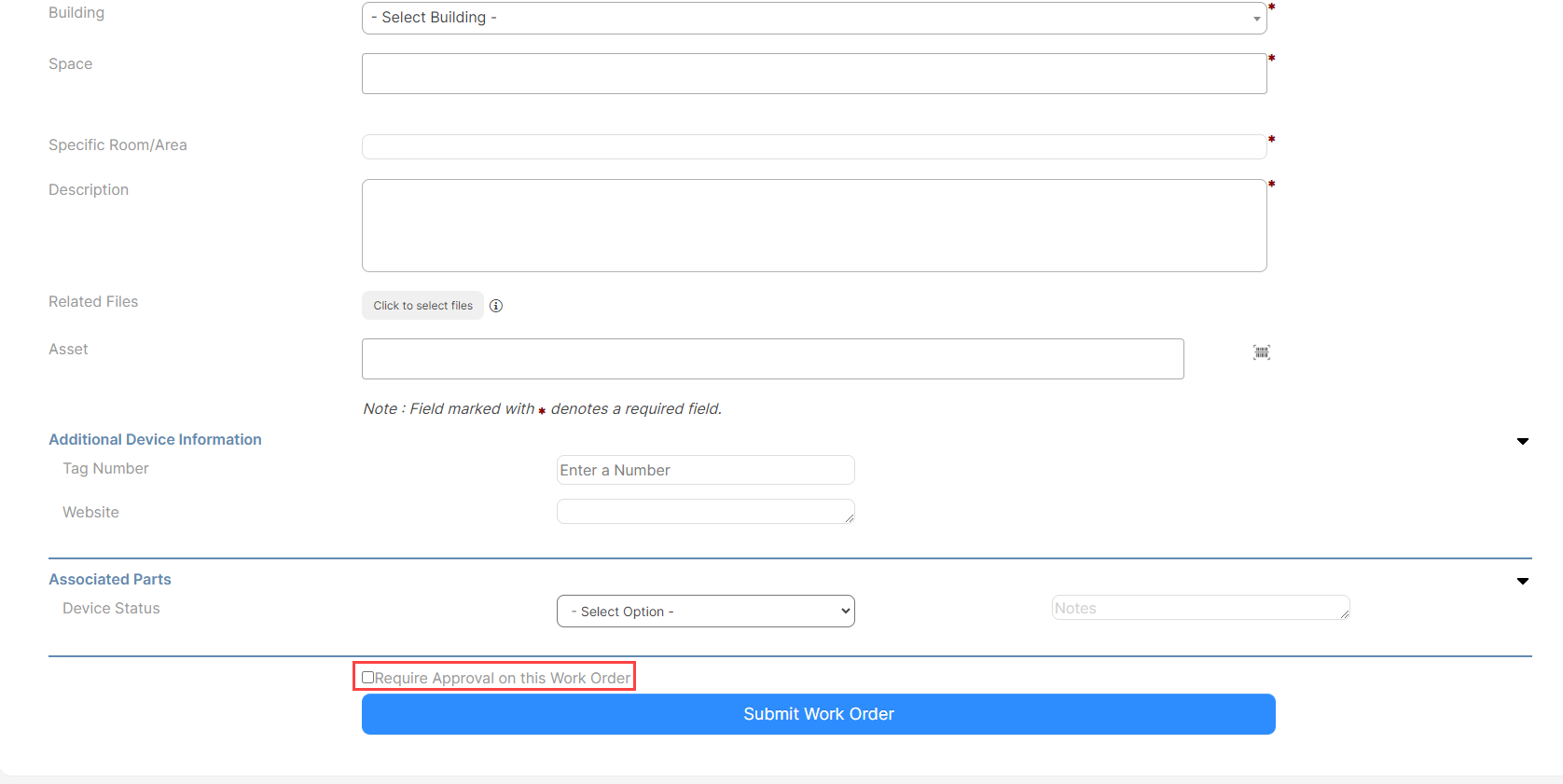 Having this box unchecked will bypass the approval path for the work order, and having it checked will make the work order go through the approval path that is in place.
For more information on submitting work orders, please click here.
There Are Now Delete and Inactivate Buttons when Editing a User with Some Context for Those Actions
When editing a user, there may be Inactivate, or Delete buttons at the bottom of that page. If a button does not appear, the reasoning as to why the user can't be Inactivated or Deleted will be stated at the bottom of the edit user page.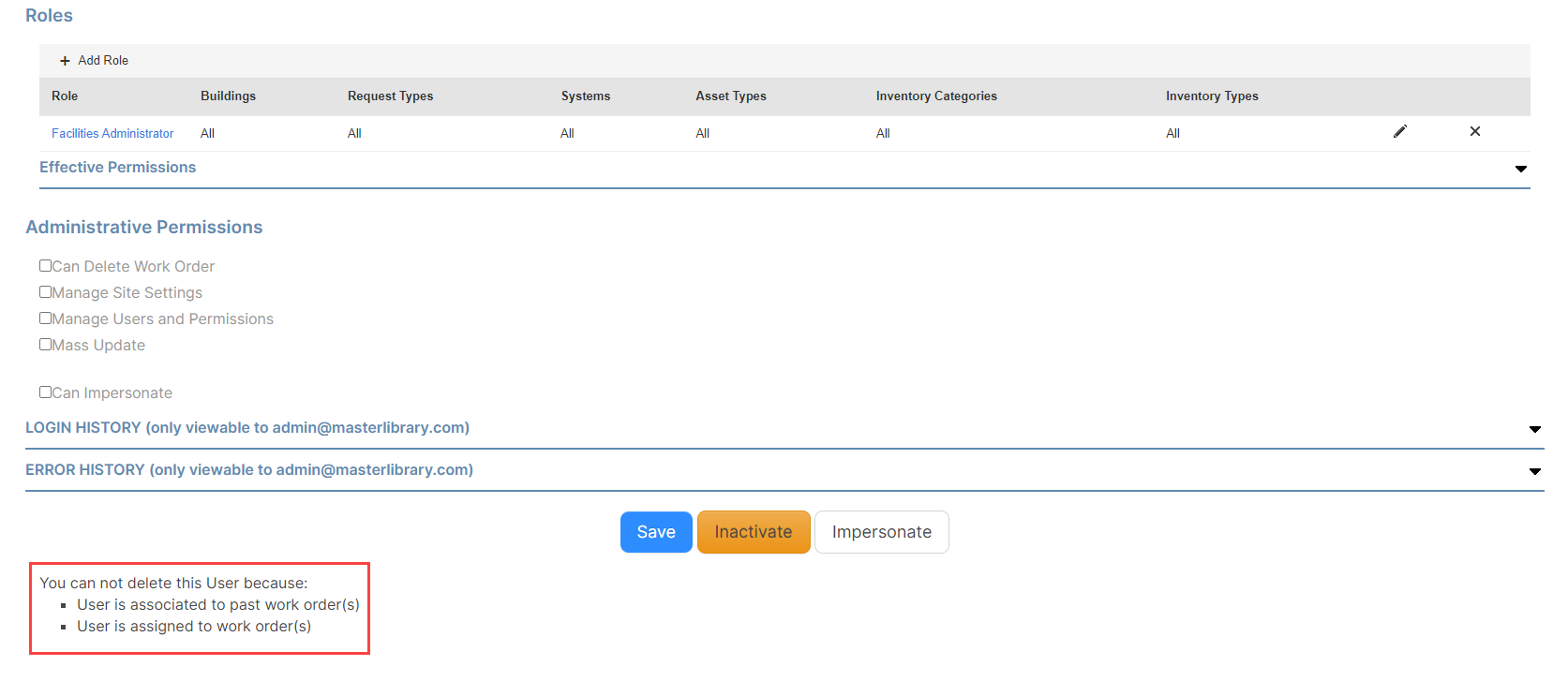 For more information on managing users, please click here.
Work Orders that Are Submitted by Users With "Approve on Behalf of Others" Permission Are Now Listed as "pending (user X)" while on approval path.
Prior to this release, in certain scenarios, a work order submitted by a user with the Approve on Behalf of Others would only have a status of "pending" and not "pending (user X). With this release, a work order submitted by a user with this permission will now see the work order pending the correct step/user.
Improvements to Reporting
Users Can Now Multi Level Sort on The View All Assets, View All Inventory Requests, and All Work Orders Pages.
Users can now combine sorting on multiple columns to narrow down the information that is shown on each of these pages making it much more customizable for users to find what they're looking for.
(i.e. The example below is sorting by the "Building" and "Requested By" columns to group requestor's work orders by building)
There Is Now the Ability to Customize Work Order Id (WOID) Numbers
WOID numbers can now be based off of fiscal year. Turning this setting on will prefix all work orders with the last two digits of the current fiscal year, followed by 6 digits of 0, and then an increasing digit by 1 for each work order that is created.
(i.e. If fiscal year start month is July, the first work order on July 1, 2023 would be 23-0000001).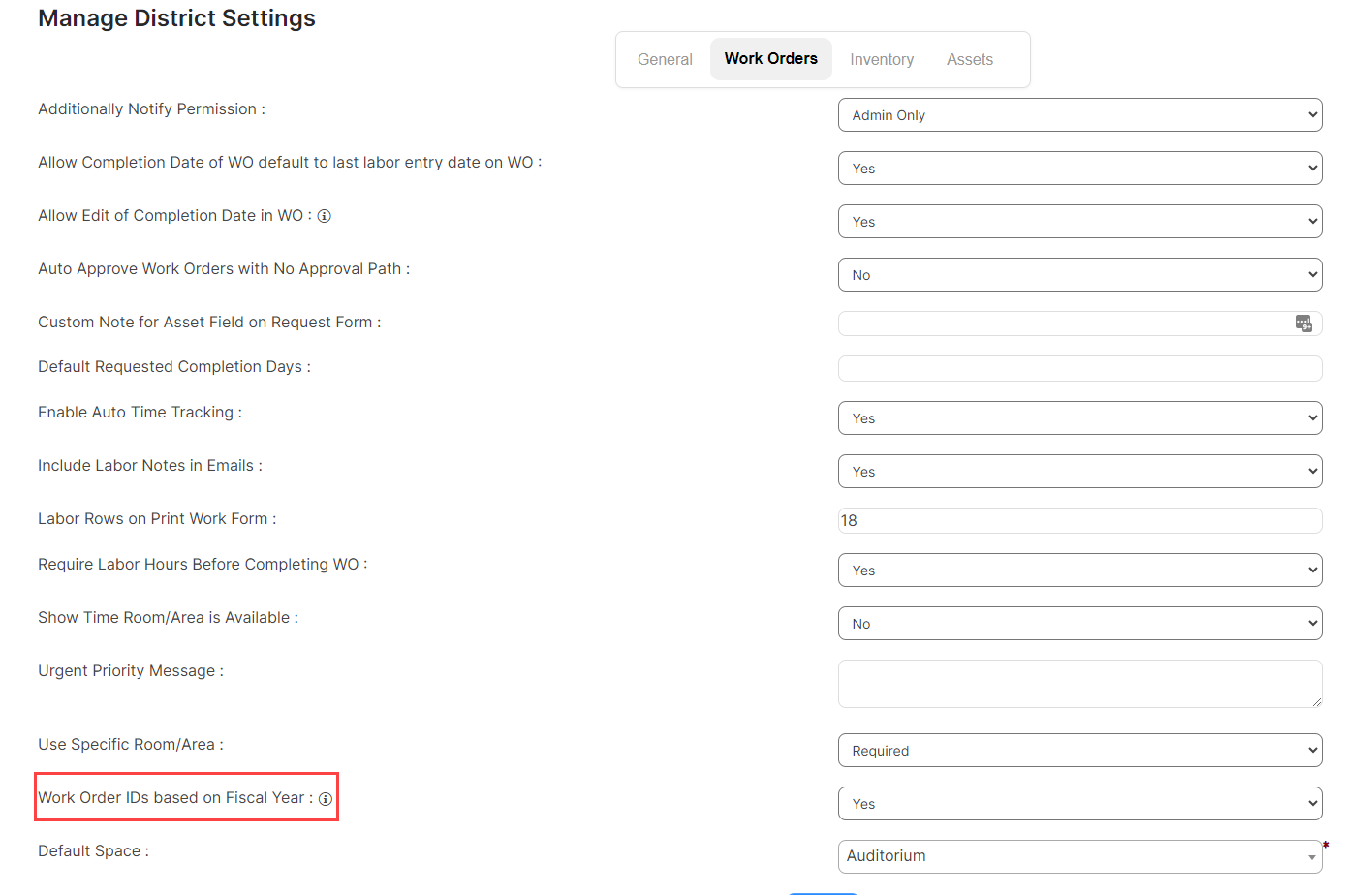 For more information on customizing work order ID numbers, click here.
General Improvements
Budget Codes that Are No Longer Being Used Can Now Be Inactivated
Inactivating a budget code will remove it as an option in the budget code drop down menu throughout ML Work Orders. Even if a code gets marked as inactive, there is always the option to reactivate it if need be. On the Manage Budget Codes page, there will be a green plus icon to activate a budget code, and a red minus icon to inactivate a budget code.

For more information on budget codes, please click here.
Ability to Remove a Request Type from The New Request Drop Down if Opting for A Custom Form Instead.
In the last release, a feature was included to allow users who use custom forms to have them appear in the New Request drop down menu. With this release, users will now have the opportunity to hide a request type on the drop down menu if a custom form is effectively taking the request type's place.
(i.e. If you have a Technology custom form that is taking the place of the Technology request type, you can hide that request type if it's not going to be used).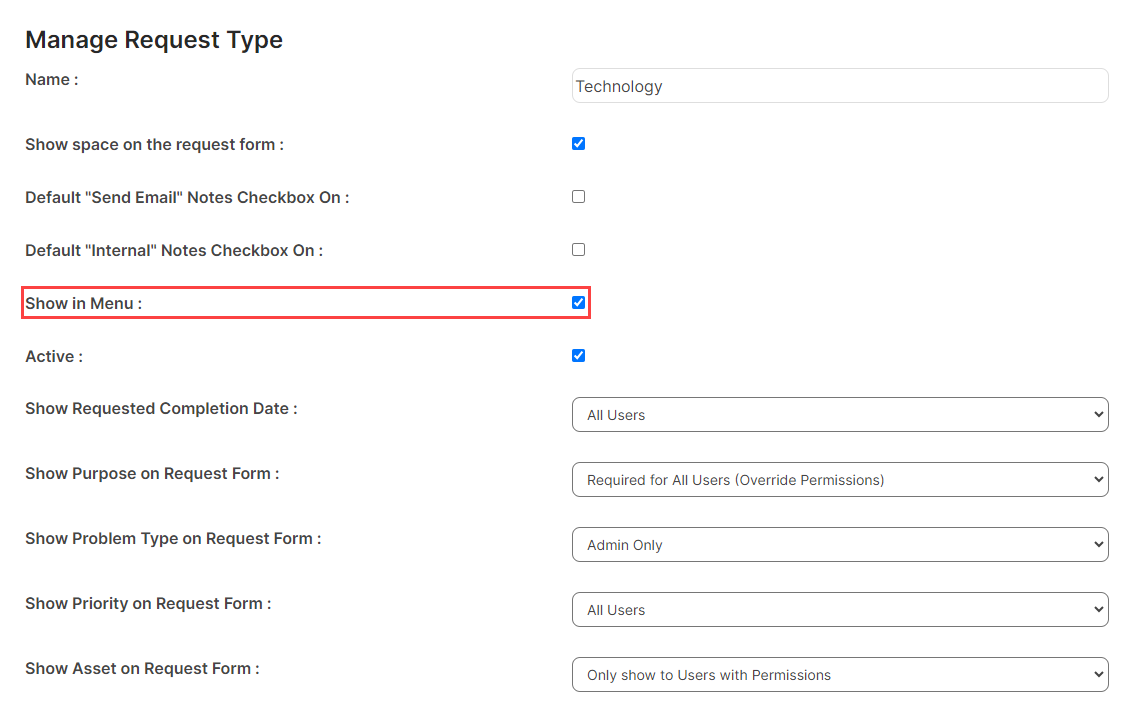 For more information on managing request types, please click here.
Ability to transfer Active Directory (AD) credentials from ML Schedules in ML Work Orders
If your district uses ML Schedules, there is now the ability to transfer AD credentials from that system over to ML Work Orders.