Administrators inside of ML Work Orders can add an Asset type(s) to a Custom field. This process will save Users time when it comes to adding a custom Field to their assets. Now they can apply the Custom Field to one or multiple Asset types in one selection.
Applying this Feature
1. Select Settings > Custom Fields Setup

2. Select the pencil icon (

) next to an existing Custom Field
3. Select Add to Asset Types

4. Select the Field section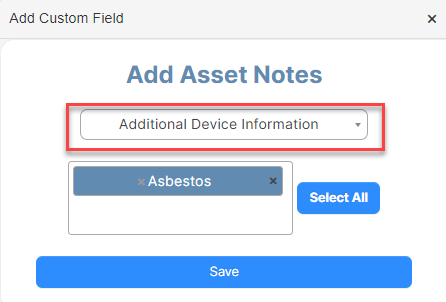 5. Select the Asset type(s) or Select All

6. Select Save.
Note: When viewing the Custom Field, you can click the Asset Type drop-down. This will display all Asset Types this custom field is associated with.
Moving an Asset Type to Another Custom Field

1. Selecting the Move Fields option will allow you to move an Asset Type to another field. Once this is done, it will be removed from the custom field you're viewing.
2. Fill out the modal and select another field.

3. Click Go.
Note: This cannot be done on an EFR Standard Field. The Move Fields option is not available. This will only work on a custom dynamic field you created.